Halloween!!
Morning everyone. Today we are going to write about my Halloween costume! While at work, people started to talk about costumes for Halloween. I LOVE dressing up for any occasion.  My first thought was Harley Quinn, but while I can dress up as Harley, I can't dress up as Harley from the video games because it's too revealing (the costume needs to be "PG-13" for work). I looked on web and found an amazing tutorial! I bought 2 pairs of jeggings and 2 tops, and went to work: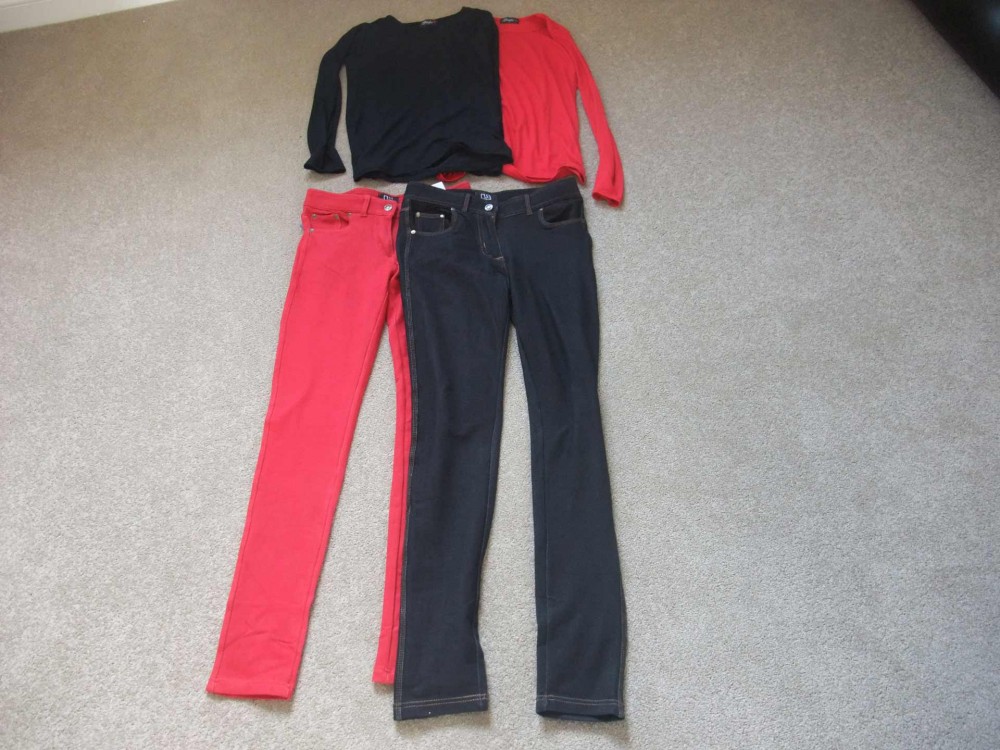 First things first; CAREFULLY open the seams separating the legs. Then pin the trousers together in the old seam places. Be very very careful when opening the seams – I accidentally made holes couple of times 😀 Stitch the seams by hand or sewing machine (Probably a good idea to practice the thread tension and stitch length on offcuts first).
The belt was a bit harder, but because this is just a costume and doesn't need to be perfect I muddled through. When cutting the belt be mindful of the seam allowance. Then stitch the elastic together, with an overlap. Finally fold the ends of the jegging material under so that it won't fray and stitch it in a straight line 🙂 Woala!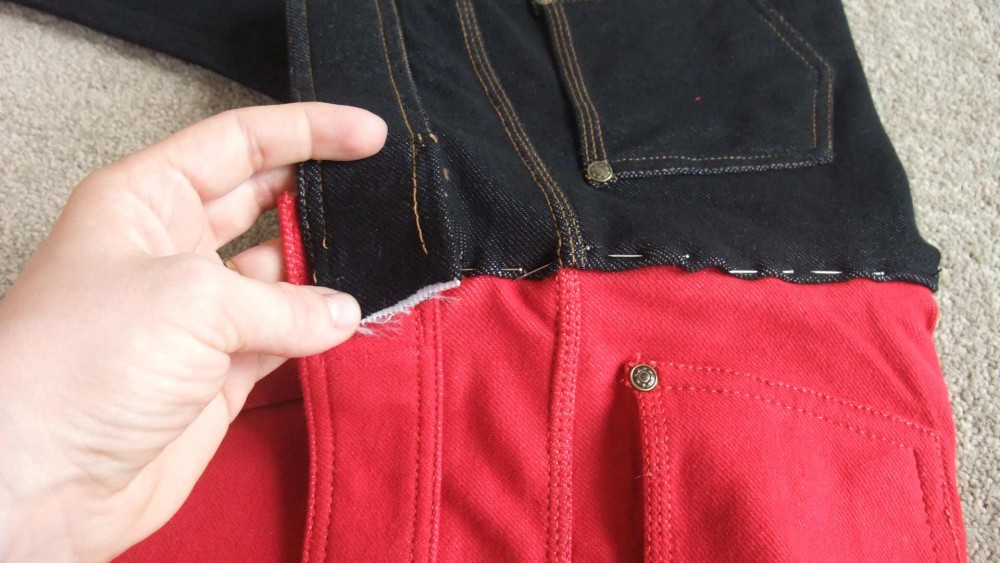 Second part – the top! Lay both tops flat, turn them inside-out and then find the middle.  Be mindful of which part of the trousers you are using, so that the colours will be opposite on the top. For example my left leg was red, so the left side of my torso needed to be black, which is why I measured the seam allowance on the left side of the centre line. Measure 2.5cm (~1 inch) to left and right of the middle line respectively, pin it together and sew, whilst praying that it will come out straight 😀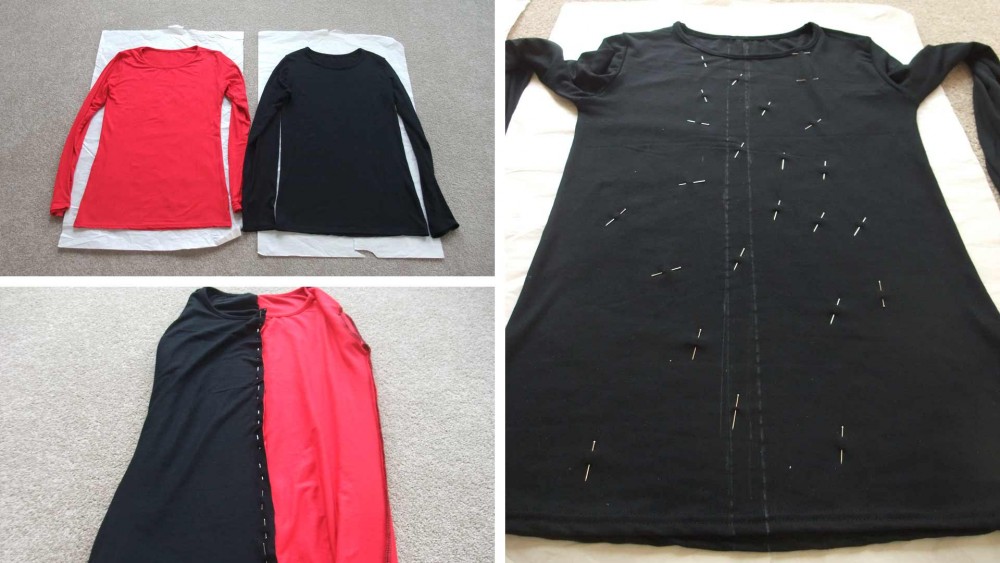 Third bit – DIAMONDS. Have I told you how much I hate diamonds – a lot. I didn't before, but now I do. I cut the diamonds from the unused side of the tops and jeggings. I like that they matched in colour and texture, but at the same time they are as elastic which is troublesome as they stretch when you try to sew them. To make the diamond shapes just make some cardboard templates. The smallest one should be around 5cm (~2 inches) horizontally across, and the bigger one about double the size. You will need 6 of each.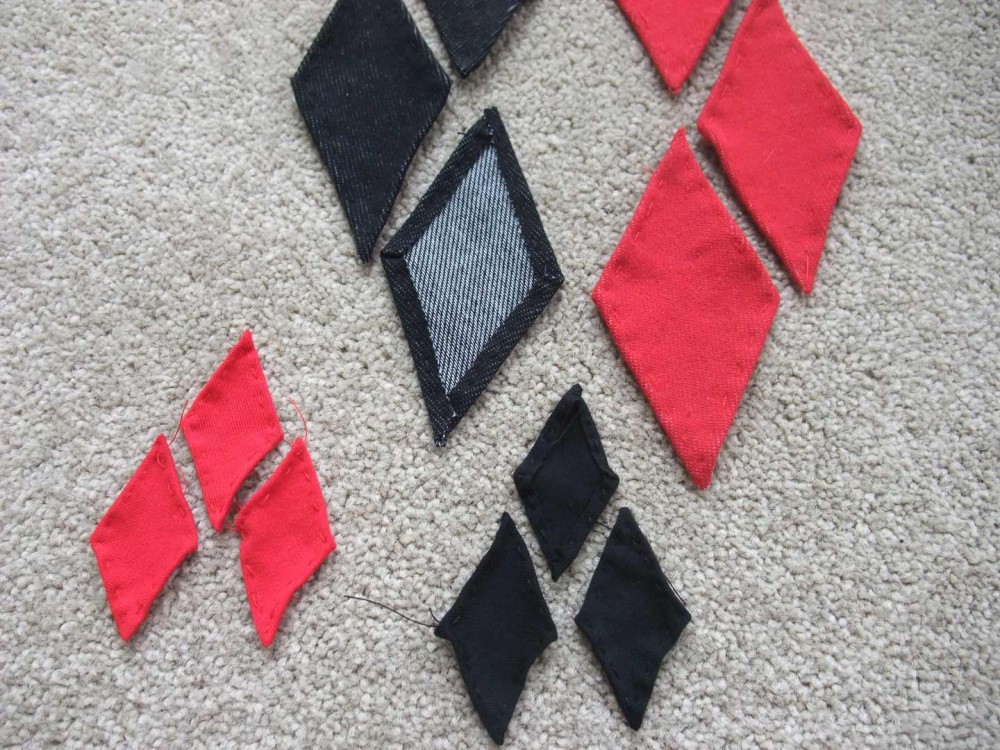 When you have put everything together including some accessories, the end result should hopefully be quite good 😀 Have a Spooky Halloween everybody!